Make a habit of a Friday call – together, we can overcome loneliness
In 2021, Alko's main responsibility theme was loneliness. Sustainability Manager Marja Aho explains the reasoning behind the decision: "Research shows that one in three Finns feels lonely, and the COVID-19 pandemic has made the situation worse. We are living in a time when loneliness has become a collective experience. For many people, loneliness and alcohol go hand in hand."
The best cure for loneliness is connecting with another person. Alko, HelsinkiMissio and MIELI Mental Health Finland are spreading this message in their campaign named "Make a habit of a Friday call". The campaign urges people to reach for their phone, as there is always someone wishing for a call. 
It was launched in the summer with the aim of reducing loneliness and preventing the alcohol problems that it causes. The campaign was highly visible in Alko's stores and communication channels during the summer. 
Alko tackles loneliness by relying on expert information and prevention. Sharing information and steering people to sources of assistance are the keys to enabling people to help themselves and each other. "This campaign is driven by a strong sense of collective responsibility," says Aho. "Our activities support personal initiative, which is an important aspect of preventing loneliness, in addition to societal action and expert assistance."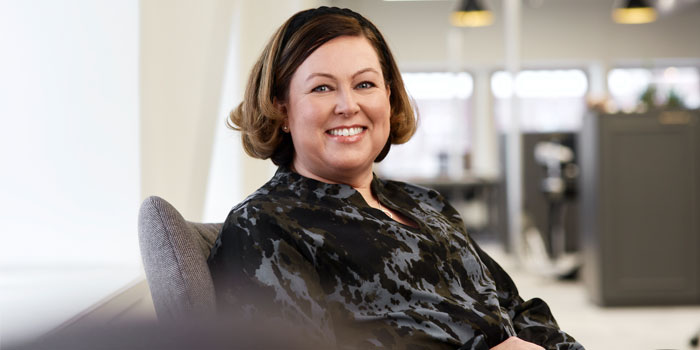 Alko´s sustainability Manager Marja Aho.
Everyone can ask how it's going 
The working days of Alko salespeople consist of encounters. With this campaign, we have highlighted how meaningful human interaction is to many customers. The salespeople have a heavier tool at their disposal – the updated Care Card, a tool for situations in which a customer expresses concerns about alcohol use, whether their own or that of a someone close to them. The card also includes contact information for parties that help with loneliness. "Alko employees are united by their desire to provide service and help. In fact, the Concern Card was originally created on the store staff's initiative," states Aho. 
Maria Lähteenmäki, Head of Loneliness Intervention at HelsinkiMissio, confirms that an individual's actions are decisively important. "Many people would love to hear from someone over the phone – but it doesn't occur to them that they could delight someone else with a phone call, too. Social interaction is easily taken for granted, even though it is the outcome of actions that make oneself and others feel good."
The campaign has been well-received by customers. Loneliness is considered an important theme, and Alkowill continue highlighting this theme also in 2022. 
Alko addresses loneliness in its own work community through the Work to Belong programme, developed in association with HelsinkiMissio. Identifying loneliness in supervisory work is included in Alko's new leadership coaching as well.